RiverWayStories
WVIK 90.3 FM Augustana Public Radio and River Action are partnering to offer a new program -RiverWayStories - that will debut Saturday, March 2 at 8:34 a.m. during Weekend Edition.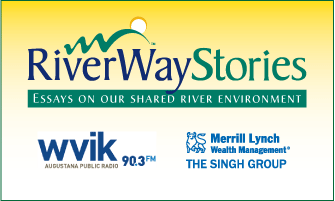 The three-minute on-air essays will cover a broad range of river-related topics, including environmental concerns, conservation efforts, history and recreation.
RiverWayStories is a collaboration between River Action and WVIK and is underwritten by the Singh Group of Merrill Lynch Wealth Management.
The programs airing Saturday mornings at 8:34 a.m.:
March 2 - Mississippi River Trail Bridges by Steve Trainor
March 9 - Value of Wetlands by Solveig Entwistle
March 16 - Retain the Rain: Bioswales by Steve Trainor
March 23 - Make Room for the River Floodplain by Solveig Entwistle
March 30 - Retain the Rain: Porous Paving by Steve Trainor
April 6- Bringing Back Mother Nature's Stream Cleaners by Tim Gilman
April 13- Environmental Education in the Outdoors by Solveig Entwistle
April 20- Volunteering- The Talent of Time by Amy Bandman
April 27- Storm Drains and Pollution by Tim Gilman
May 4- Kids Explorers Program- Leave no Child Inside by Amy Bandman
May 11- Mississippi River Trail- Duck Creek Loop by TIm Gilman
May 18- QC Bald Eagles by Amy Bandman
May 25- American White Pelicans Return to the Upper Mississippi River by Keith Bustos
June 1- Why the Mississippi River Runs East and West by Amy Bandman
June 8- Collaborations in Nature by Keith Bustos
June 15- Hennepin Canal: From an Engineering Wonder to a Tool for Regeneration by Amy Bandman
June 22- Applying Environmental Ethics to Our Lives by Keith Bustos
June 29- Creative Collaborations by Amy Bandman
July 6- Freshwater Mollusks by Michael Goodyear
July 13- Sultana by Bailey Johnston
July 20- My Favorite Places by Kathy Wine
July 27- Green Greenways by Amy Bandman
August 3- Collaboration with Nature by Michael Goodyear
August 10- Improving Credit Island Slough by Keith Bustos
August 17- Bio-Diversity Day by Michael Goodyear
August 24- Protect Local Water Resources by Robin Dunn
August 31- Levees: A Tale of Five Cities by Michael Goodyear
September 7- A Fiery Anniversary by Bill Wundram
September 14- The Example and Future of Climate Change by Michael Goodyear
September 21- Collaborating on Riverfront Development by Michael Goodyear
September 28- What the Mississippi Means to Me (By Dick Stahl) by Roald Tweet
October 12- Birdlife Along the Mississippi by Michael Goodyear
October 19- Who Am I by Robin Dunn
October 26- Progressive Water Usage in the Middle-Ages by Michael Goodyear
November 2- The Iroquois: Cooperation in Politics and Agriculture by Michael Goodyear
November 9- The Rock Island Bridge by Ronald Tweet
November 16- A Favorite Spot Along the Mississippi by Lisa Cleve
November 23- Green Valley: Improving a Local Treasure by Tim Gilman
November 30- Salt Intake by Robin Dunne
December 7- How Does Your Garden Grow? by Eileen Spies
December 14- Silver Carp by Olivia Dorthy
January 4, 2014- Eagles in the Quad Cities by Tim Gilman
January 11, 2014- Bees by Eileen Sipes
Janurary 18, 2014- Trees Protect Water Quality, Too by Robbin Dunne
January 25, 2014- Clean Water, Clean Communities by Amy Bandman
February 1, 2014- Smith's Island by Lisa Cleave
February 8, 2014- Model Watershed Lessons by Amy Bandman
February 15, 2014- Planning for the Quad Cities Region by Gillman
February 22, 2014- Retain the Rain by Amy Bandman
March 1, 2014- Wapsipinicon River by Lisa Cleave
March 8, 2014- Farnam DInner by Curtis Roseman
March 15, 2014- Finding Partners In The Wilderness by Amy Bandman
March 22, 2014- Lawn Care by Robbin Dunne
March 29, 2014- Explore the River by Amy Bandman
April 5, 2014- Pelicans and the Mississippi Flayway by Lisa Cleave
April 12, 2014- What Makes an Eddy? by Amy Bandman
April 19, 2014- Sultana by Bailey Johnston
April 26, 2014- 1 Mississippi by Amy Bandman
May 3, 2014- Smarter than a 5th Grader by Robert Dunne
May 10, 2014- Climate Change by Amy Bandman
May 17, 2014- Who Am I by Robin Dunne
May 24, 2014- The Greenest Building by Amy Bandman
May 31, 2014- Birdlife Along the Mississippi by Michael Goodyear
June 7, 2014- Nahant Marsh Turtle Program by Amy Bandman
June 14, 2014- Protect Local Water Resources by Robin Dunne
June 21, 2014- Wading into Wild Areas by Amy Bandman
June 28, 2014 Freshwater Mollusks by Michael Goodyear
July 5, 2014- Native Turf by Robin Dunne
July 12, 2014- Preparing for the Emerald Ash Borer by Jessica Flondro
July 19, 2014- Long History of Adaptation and Recycling by Michael Goodyear
July 26, 2014- A New Tourism Model for the Mississippi by Joe Taylor
August 2. 2014- Navigating the Channel by Jessica Flondro
August 9, 2014-Enviromentalism in the Amazon by Michael Goodyear
August 16, 2014- You Can Do This in Your Backyard by Jessica Flondro
August 23, 2014- Chief Black Hawk by Michael Goodyear
August 30, 2014- Battle of Credit Island by Bill Handel
September 6, 2014- The New Face of Tourism by Michael Goodyear
September 13, 2014- Monarch Butterflies by Jessica Flondro
September 20, 2014- Finding the Mississippi by Michael Goodyear
September 27, 2014-Wind and Water, Powering Colonial America by Michael Goodyear
Ocotober 4, 2014- The Importance of the Mississippi River by Bill Handel
Constantinople, A City of Water by Michael Goodyear